THIS IS A PESTICIDE ADVERTISEMENT
Trade Name:
TAPISAN®
Active Ingredient:
Buprofezin 10% w/w
Cartap hydrochloride 50% w/w
Formulation:
Wettable Powder
Available Packing:
250g
Registration No.:
LRMP.R1/4030
Description:
TAPISAN® is a combination of two active ingredients from dithiocarbamate group and insect growth regulator. Cartap hydrochloride disrupts the development of the next generation of insects pest effectively. Buprofezin prevents molting of nymphs and indirectly suppresses the breeding of adult hopper.
View Product Leaflet: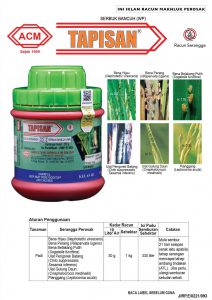 Crop

Pest

Dosage

Spray Volume Per Hectare

Application Method

10 Liter Water

Per Hectare

Paddy

Green leafhopper (Nephotettix virescens)

Brown planthopper (Nilaparvata lugens)

Whitebacked planthopper
(Sogatella furcifera)

Stemborer
(Chilo suppressalis, Sesamia inferens)

Leaffolder (Cnaphalocrocis medinalis)

Stinkbug (Leptocorisa acuta)

30 g
1 kg
330 liters
Start application at 21 days after seeding
when application threshold level (ATL) is reached.
Repeat at monthly intervals if necessary.