THIS IS A PESTICIDE ADVERTISEMENT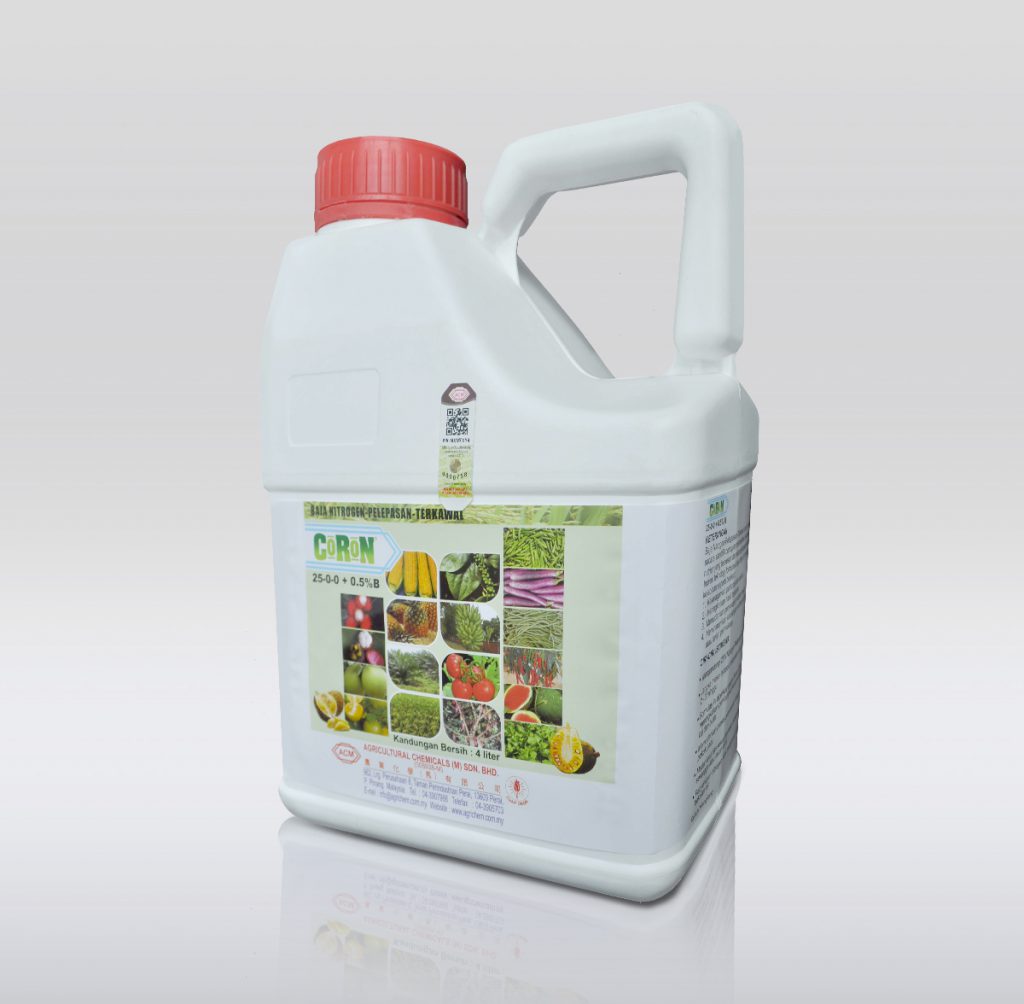 Trade Name:
CoRoN 25-0-0+0.5%B
Formulation:
Liquid
Available Packing:
3L, 4L (Other packing available on request)
Description:
CoRoN, a liquid Controlled-Release Nitrogen Fertilizer, has been scientifically formulated to deliver highly effective foliar nutrition to crops and other commercially grown plants with maximum efficiency and crop safety.
This superior technology was developed to safely provide high quality foliar nutrition for:-
– Uniform growth of plants.
– Increase of crop production & yield.
– Excellent uptake and translocation by plant via foliage.
– Minimizing important issues such as leachability, nitrification and other problems associated with conventional foliar fertilizers.
Characteristics:
– Contains 25% Controlled-Release-Nitrogen.
– Uniform release of nitrogen into plant system for 2-3 weeks.
– Formulation contains Boron (B) to enhance flowering and development of grain & fruit.
– Rapid uptake of nitrogen by paddy plant.
– Easily mix and compatible with most insecticides and fungicides.
– Uptake of nitrogen not depending on water supply-enable supply of nitrogen to paddy under dry and moist field condition.
Crop

Application Timing

Dosage

Spray Volume Per Hectare

Lowland Paddy & Hilly Paddy (as alternative to urea)
10 L/ha
First application at maximum tillering stage
280 L
5 L/ha
Second application at booting stage
Note: Fungicide/insecticide needs to be mixed before CoRoN.