THIS IS A PESTICIDE ADVERTISEMENT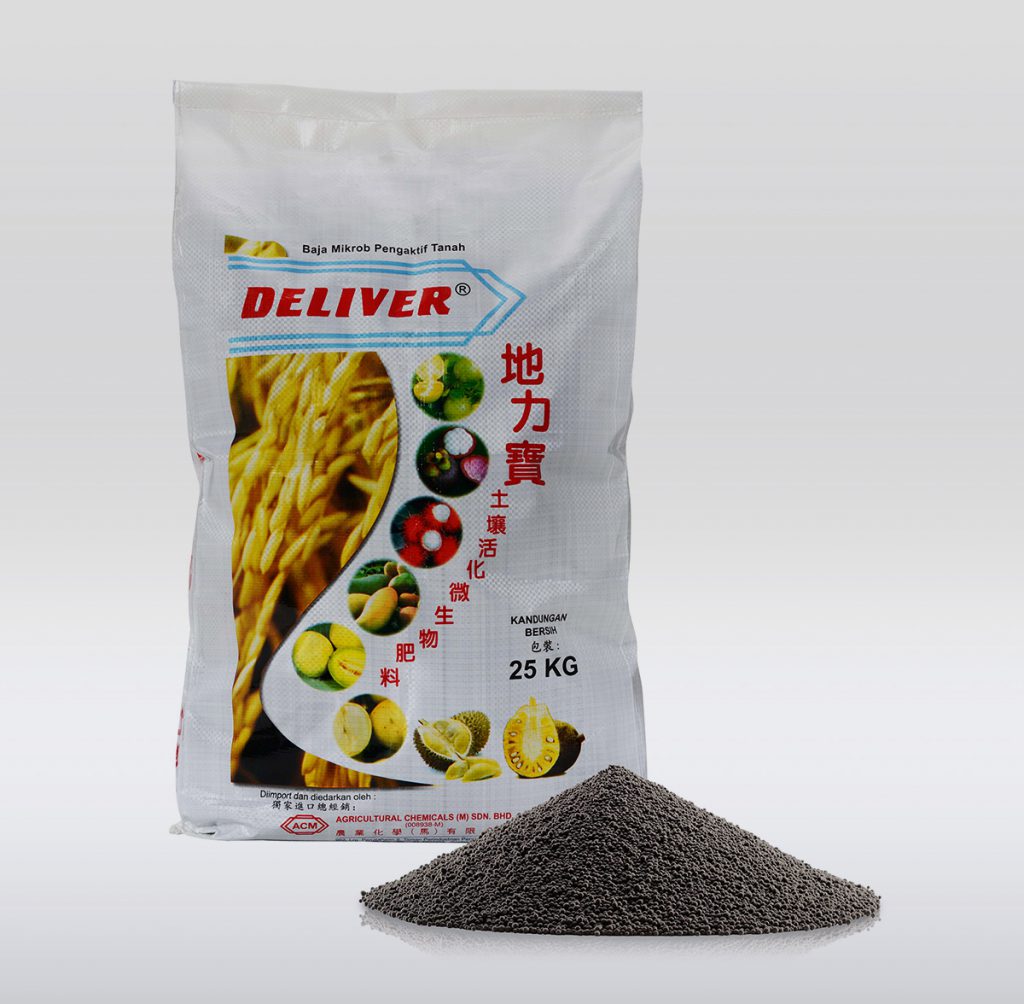 Trade Name:
DELIVER®
Formulation:
Granule
Available Packing:
15kg, 25kg (Other packing available on request)
Description:
DELIVER® is a patented, environmentally friendly granular eco-fertilizer composed of specially selected natural ingredients, including yeast, leonardite and other growth materials.
The DELIVER® granules act as "biological factories" which, once incorporated into the soil, become activated and interact with soil and plant roots to significantly promote microbial activities of natural existing beneficial soil microorganisms, improve soil quality, unlocks the nutrients from the soil and makes applied fertilizer more efficient.
Characteristics:
– Easy to apply dust-free granules, works 3-5 months in the soil.
– Salt-free, safe to use on or near seeds.
– Improve root system development.
– Makes applied fertilizer more effective.
– Replaces 10-25% of soil applied fertilizer.
– For organic and sustainable agriculture.
Crop

Dosage

Method

Paddy
85 – 100 kg/ha
During the final land preparation, Deliver® is applied
uniformly over the soil surface before incorporated into the soil.
Leafy Vegetables
Green Mustard, Cabbage, Lettuce, Kale, Celery, Onion, etc
1000 – 1500 kg/ha
Broadcast Deliver® uniformly over the soil surface of planting bed
before incorporated into the soil to a depth of 5-10 cm.
Fruit Vegetables
Chilli, Eggplant, Okra, Long Bean, French Bean, Tomato, Sweet Peas,
Cucumbers, Gourds, Pumpkin
Cucurbits
Watermelon, Muskmelon, etc.
Ornamentals Plants
Chrysanthemum, Carnation, Rose, etc.
Estate Crops
Oil Palm, Rubber, Cocoa, Pepper, Tea, Tobacco & Sugarcane
1000-1800 kg/ha
Deliver® can be applied by:
1) Furrow application in radial form
2) Circle application
3) Pocket applicationDeliver® is applied into the furrow/pocket/planting hole
before cover with soil and irrigation.
Fruit trees
Starfruit, Durian, Mango, Papaya, Guava, Rambutan, Wax Apple, Citrus & etc
2-5 kg/tree
Nursery
Oil Palm, Rubber, Cocoa, Fruit Tree, Ornamental Plant & etc
50 – 100 g/nursey bag
Incorporate Deliver® into soil mixtures prior to potting.
Note: Irrigating with water after application of DELIVER® for optimum result.