THIS IS A PESTICIDE ADVERTISEMENT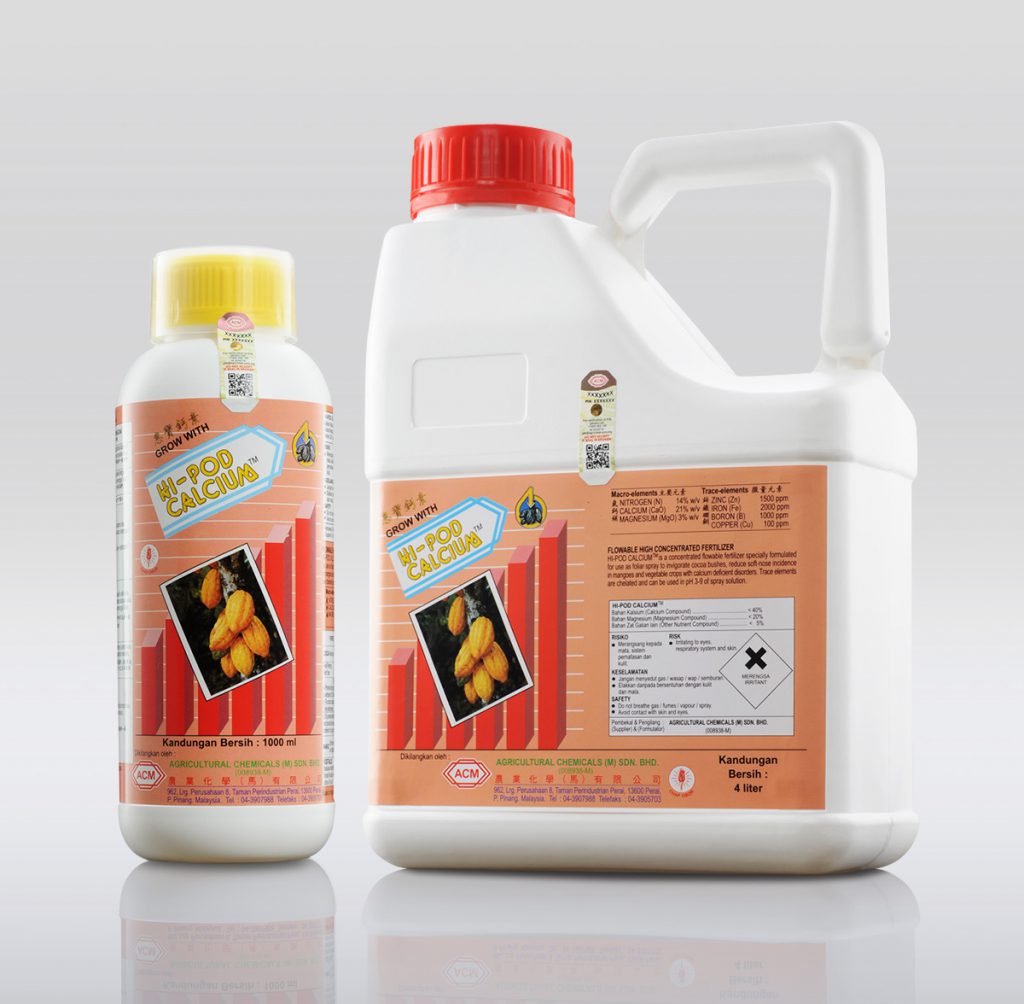 Trade Name:
HI-POD CALCIUM™
Formulation:
Flowable
Available Packing:
1 L, 4 L, 20 L (Other packing available on request) )
Description:
HI-POD CALCIUM™ is a highly concentrated flowable foliar fertiliser with high calcium content, produced using technical known-how from crop protection formulation technology.
Characteristics:
– Chelated trace elements which enhance absorption by plants.
– Being buffered, any clear water of pH 3-9 can be used for dilution.
– Highly concentrated and yet flows freely.
– Instant mixing in water with no sedimentation.
– Non-caking
– No phase separation.
– Compatible with most fungicides and insecticides. 
Crop

Dosage

Method

Cocoa – Nursery
0.5 liter/ha
(10 ml per 10 L water)
Apply at 7-day interval, alone or with normal pesticide spray
Cocoa – 1st year
1 liter/ha
(20 ml per 10 L water)
Apply at 14-day interval with normal pesticide spray
Mature/immature Cocoa:
a) To stimulate growth to fight VSD infection;
b) To overcome calcium, zinc and iron deficiency;
1 – 2 liter/ha
(20-40 ml per 10 L water)
Spray canopies, with or without mixing with insecticides/fungicides
Mature/immature Cocoa:
c) To promote better fruit-setting and provide
the necessary nutrients for young cherelles.
1 liter/ha
(20 ml per 10 L water)
Regularly spray onto young developing cherelles,
with or without mixing with insecticides/fungicides
Mango
Soft nose disorder and splitting of fruits
2 liter/ha
(40 ml per 10 L water)
Spray on the young fruit at weekly interval,
with or without insecticides/fungicides, until the harvesting stage
Vegetables
Brassicae – Internal browning
 3 liter/ha
(60 ml per 10 L water)
Spray at weekly interval, with or without mixing with normal pesticide spray
Tomato – Blossom end rot
Lettuce – Tip burn